Charming tourist apartment in Granada

Come and enjoy and sleep in one of our tourist apartments in Granada, we are open all year round.
Our main objective is that our guests feel at home and stay as well or better than in their own home.
Alh'Patio are tourist flats in Granada (with a free coworking space option) where you will have all your independence, your own entrance, keys, kitchen and private bathroom, the flats are fully equipped!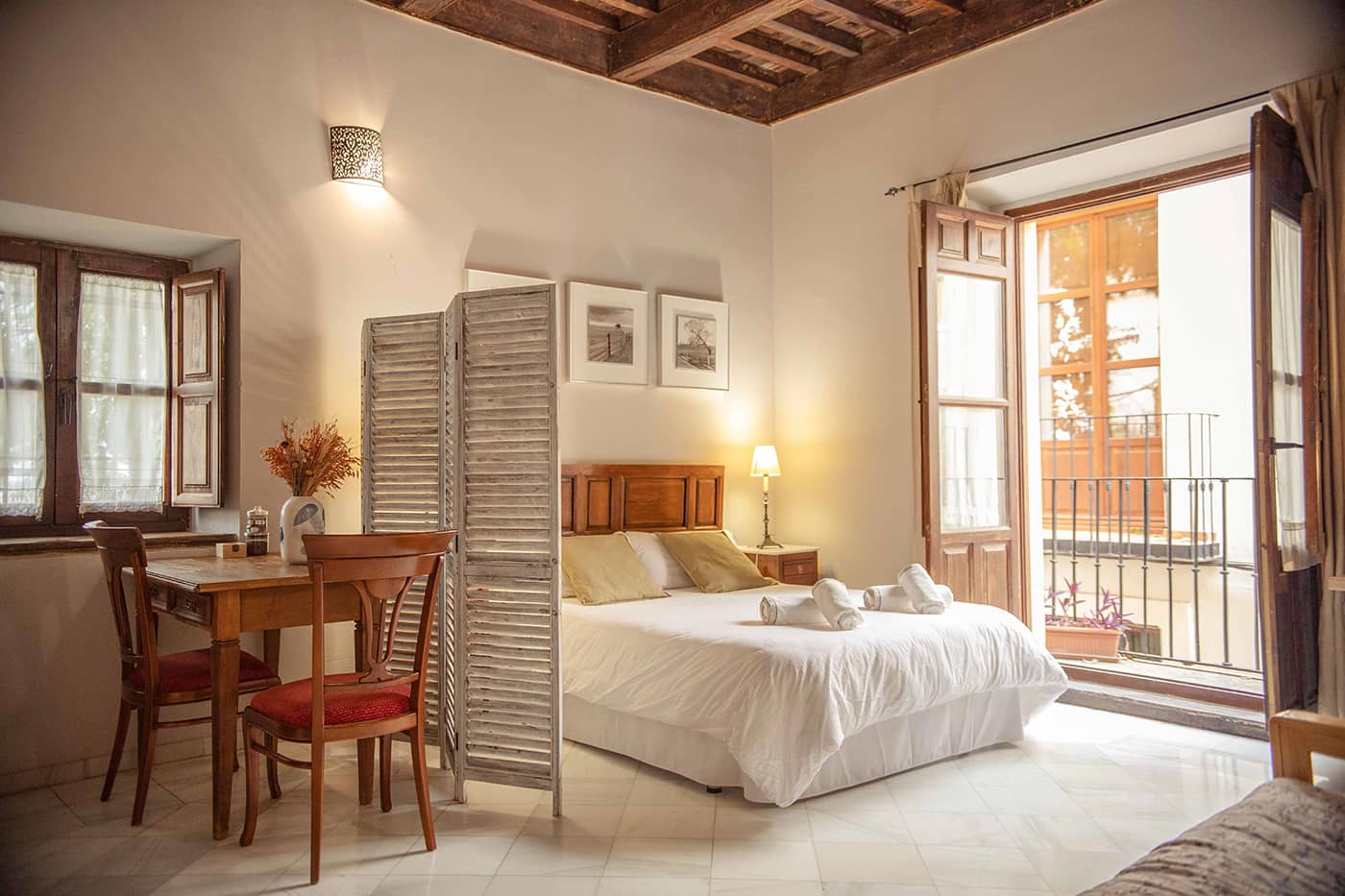 We offer almost the same as a hotel: we will be at your service throughout your stay. The tourist apartments are fully equipped, with sheets and towels included.
In the bathroom you will have at your disposal: hairdryer, paper, shampoo and gel.
If you want to eat at home, you have a fully equipped kitchen where you can show your culinary skills, from microwave to frying pan, from plates to knives, from Italian coffee machine to a kettle, from steak knife to potato peeler.
And don't worry, there is also a corkscrew and wine glasses in each of the flats, so you can enjoy the sunset on the terrace overlooking the Alhambra in the best way possible.
Types of holiday flats in Granada
We offer 5 fully equipped and private apartments in Granada. Each of them has at least one double bed of 150*190 cm, fully equipped kitchen, sofa bed, marble floor and views of the courtyard or the street.
3 categories of apartments
Studio flats
We have 2 totally different, one oriental type with a typical balcony, and the other attic type with an original decoration and very luminous due to its large windows.
Classic flats
With one bedroom and a separate living room. Of these, we also have two, one of them is a duplex with entrance to the patio and its little table. The other has a balcony with a view of the Alhambra.
Flat with two bedrooms
The best option to come with family or friends. It has one room with a double bed and another room with two single beds.
Coworking at your disposal
As we offer a coworking service, each flat has a desk so you can work quietly in your room. Obviously, wifi access via fibre optics is completely free of charge.
Tourist apartments in Granada with charm
We are fortunate to have underfloor central heating and thus have an absolute comfort during the winter.
Imagine getting up, stepping on the floor and walking around the flat barefoot without being cold. Or the other way around, in summer, the marble floor is perfect for after a day of walking, taking off your shoes and feeling the cold on your feet.
The luxury of the Albaicín is that also the houses are built in such a way that, in every season, you feel comfortable thanks to the wide walls that regulate the temperature.
The apartments are set around a charming Andalusian courtyard with its fountain.
From the moment you enter, you will live a Granada experience with this typical patio. We have arranged it with tables where you can come and relax after a day of work or walking around Granada. We have created a space with sofas where you can also relax and enjoy a coffee, for example.
The terrace, which is probably one of the reasons why you have been looking at our website, is at your disposal.
We have one of the best views of the Alhambra you can find! And we know that this is essential for you.
There are sofas and tables that can be joined together for a maximum of 7 people. The terrace is communal. The street Gloria where we are located, is a very quiet area. If you are lucky, you can listen to flamenco or guitar in the evening, while enjoying a glass of wine looking at the Alhambra during the sunset.
As we have said, we are in a perfect location, in a very quiet neighbourhood where you can't hear anything. That's why we have set opening hours to go to the terrace so that the neighbourhood stays that way, you can come and enjoy yourself until midnight! Even so, you have time, and nobody will disturb your peace and quiet and your evening!
It is a family house, we work as a family, her uncle and his niece. This atmosphere allows everyone to feel comfortable. We will do our best to answer your questions, answer all your questions and help in any way we can.
We are 24/7 on the phone. We talk a lot by WhatsApp, by phone or also by mail, and we answer as fast as we can! As it is our main job, we are there almost every day, so we are also here for anything!
We have activities, contact guides, bars, tourist sites, that we can pass on to you. We are here to help you have a more than perfect stay!
Alh'Patio is located in the historic centre of Granada, it is called the Albaicín, one of the best neighbourhoods to be in, Albaicín is on one of the two hills of Granada, and we are luckily at the bottom!
Only 2 min from the Paseo de los Tristes, 2 min from cafes, restaurants, bars and shops, 10 min from the centre, the cathedral and 15-20 min from the Alhambra on foot!
"Excellent location, spacious and very comfortable room. Amazing terrace overlooking the Alhambra. Just perfect."